Synthetic Grass Installation Services for Palm Beach Residents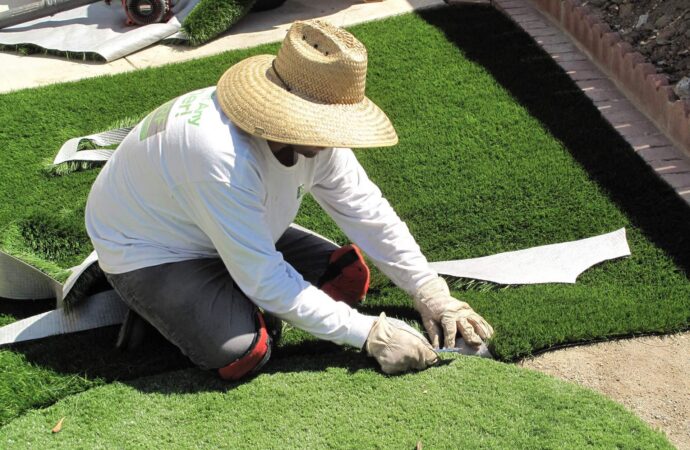 All our clients have preferences and different needs. Most would believe that there's no such thing when it comes to artificial turf or grass. However, did you know that grass and turf aren't even the same to begin with? Synthetic turf is often used for high-volume foot traffic areas and offers a bit more support. Meanwhile, synthetic grass installation is usually performed or requested for green spaces where how the landscape looks is more important than the support or impact reduction it offers. Synthetic Turf Team of Palm Beach makes sure to offer the best service for it.
Our team works with synthetic grass, and we understand how it is installed, maintained, and repaired and manufacture it to guarantee the quality and how well it performs regardless of the area where we put it.
However, before our clients make a decision or go straight to our synthetic grass installation service, we love giving them some overview and guidance on the matter. This includes you if you're about to make a decision on what's best for your space.
What Makes Artificial Grass Different from Synthetic Turf?
You must be familiar with golf courses, athletic fields, and soccer stadiums. All of them have something in common: they use synthetic turf due to its functionality, durability, and longevity based on the activities taking place and the high volume of foot traffic.
Meanwhile, artificial grass is meant to resemble what natural grass offers: a lawn where most people sit, spend some time together, and just admire it due to how green and fresh it looks.
You can notice the difference between both products in what they are usually used for and their appearance.
Artificial turf looks less "real," and it is shorter than synthetic grass as the latter tries to imitate or look like the real thing regardless of where it is installed to the point in which not many people can tell the difference when compared to natural grass.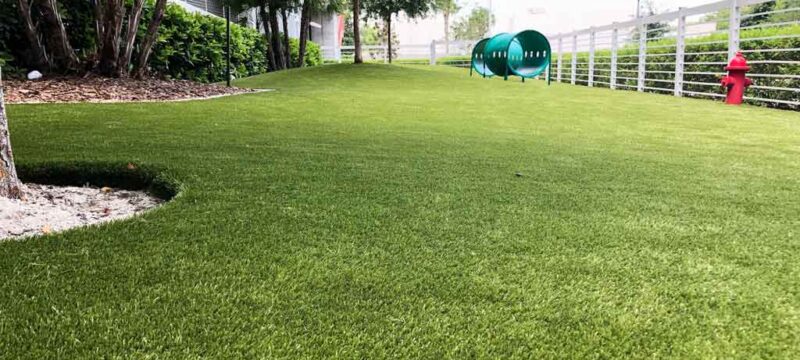 Now, in terms of durability, longevity, and how they look, both options should be able to last the same amount of time and look stunning since they will be installed after proper assessment, which includes measuring the space, determining what the area will be used for, and choosing the perfect type while performing a proper installation.
Most products should last over a decade as they are not of high maintenance and can be easily tended to by even children when you want them to take part in the task.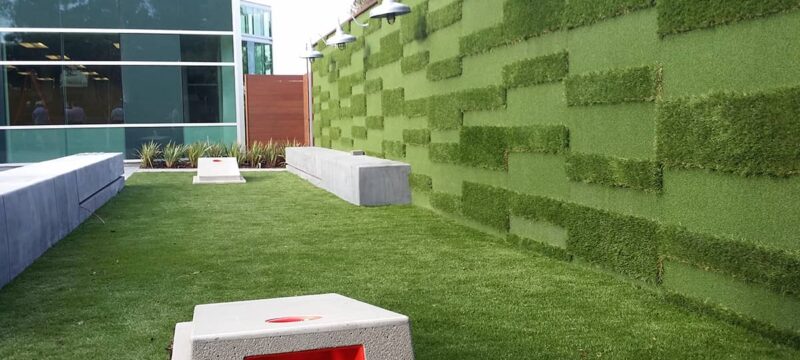 When Should You Choose Synthetic Grass Over Artificial Turf?
When your green space is either a patio, garden, or low-volume of foot traffic.
Sometimes, clients contact us to have synthetic grass installed in parks or areas where high-volume foot traffic is inevitable, and we want you to know that this is possible. Although it is recommended to use artificial turf in those areas, it is all about what you want in terms of functionality and appearance.
Patios and gardens are, however, often recommended for this product as they will look more natural with the use of synthetic grass, which people won't even notice aren't real. In fact, you will forget that it is artificial days after the installation since it isn't only about how it looks but also feels.
Artificial grass's fibers imitate natural grass and how it would feel if you were touching it with your bare hands. Sometimes, it is even softer and offers more comfort and support depending on the materials used to make the product's fibers.
We use top-quality materials such as nylon and polyethylene and work with professionals that guarantee the latest technology so you can enjoy a surface that looks good all year round.
That being said, you should go for turf whenever you have children playing, athletes practicing sports, and high-volume of foot traffic. However, some exceptions can be made depending on your actual needs and priorities since our artificial grass offers great support for different activities and situations, and our team will guide you through the process to ensure you make the best decision.
How Is Our Synthetic Grass Installation Process?
Unlike others, we will take every step for you. Starting with our FREE visit to your space and property to assess it and take all measures and photos needed.
Then, we will go over your needs and preferences to understand the design that will fit them the most and come up with it in the next few days, which will be waiting for your approval.
Our estimates can be given before and after we start the design so you can have an idea of how much it will cost based on the materials we will use and the space we're working with to deliver the best experience once the grass is installed.
In many projects, choosing the right synthetic grass and having it installed is more than enough, but the area still needs assessment, so we know the measures and how much product must be used.
Regardless of what you need, we will be fast professionals and ensure you are satisfied with the entire experience and won't have to lift a finger. Remember that the installation is crucial for its longevity and performance, besides choosing the right type of artificial grass. Hence, leave it to our team and allow us to go over every step:
Contact our team to request the service.

Schedule a visit that will be free of charge.

Allow us to assess the area and give some recommendations and ideas of what would be the best in terms of products and design.

Have our team design the green space for the grass.

Receive the estimate.

We will start working as soon as you approve it.
In order to have our team working on this synthetic grass installation, you can rely on our phone numbers, email addresses, and location. You are welcome to visit us all year round and place your request!
Below is our list of additional services: