Commercial Synthetic Turf Installation Services for Palm Beach Residents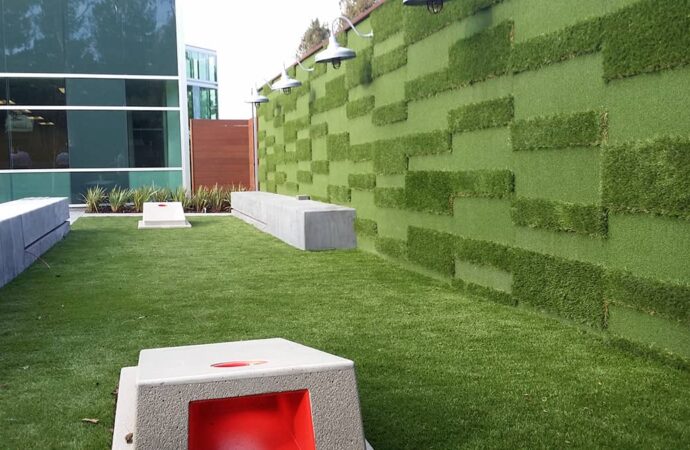 Synthetic Turf Team of Palm Beach works with more than homes, small patios and gardens, and your regular residential areas. We are proud to be part of the few companies in the area that can handle commercial synthetic turf installation and cover a large range of landscaping for companies, golf courses, and more massive areas where businesses have the last word.
Most residents in Palm Beach and surrounding areas haven't noticed that many places in their cities have artificial turf instead of being the real thing, this is how authorities can keep parks and several areas looking stunning and green all year-round while saving time, money, and helping the planet since watering is not as needed for this artificial option as with natural grass or turf.
However, handling large-scale projects and installing synthetic turf in parks, spaces within businesses, buildings, or even stadiums, can be quite difficult as the surface must be even; the product should meet all client needs and requests and cover the client's possible situations.
For example, many parks have areas with artificial turf or grass installed, but not all of them are accessible to the public since they have a path to follow. Although this must be respected, the turf installed should be able to resist high volume of foot traffic when needed, and the right type of product is required.
There are many details to consider, and since the technology for artificial turf keeps evolving, it is crucial to determine which ones will be the best materials to be used to manufacture the product.
Our role as professionals who have worked with several companies, businesses, governmental entities, and owners over the past 15 years are to develop a solution, design, and long-lasting product.
For this, we manufacture most of the turf that will be installed or acquire it from companies that follow our standards:
Use eco-friendly products.

Keep price in mind.

Use high-quality products.

Guarantee longevity and durability.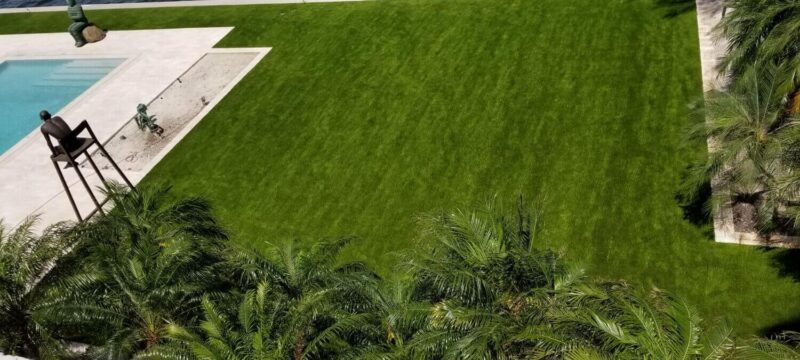 How to Know If Your Project Is Meant for Commercial Synthetic Turf Installation
Some projects won't necessarily be of large scale when the time comes. After all, businesses and companies have some spaces in their properties that they want to transform into green areas for their employees and clients or just to add appeal to the place.
In those cases, the commercial service is more appropriate for the task than our residential option since it involves working for businesses and not the direct owner or people in charge of it.
If you aren't confident about needing this service or don't feel like it is the option for your project, there's no need to worry about this detail since we will guide you in either of the cases.
However, to give you an idea of when you may need our commercial artificial turf installation, you can make the decision based on some of these options:
You are a company that wants to install artificial turf for an empty area or green space—already—to save some money and time.

There's a stadium or large field/lawn that requires installation.

Parks, public areas, and similar places are within the commercial range.
You can let our team know what the project is about and if you need us to either design the landscape besides handling the synthetic turf installation or if you want us to deal with this basic yet crucial part of the idea you have in mind.
Does Your Ground Need to Be Leveled for This?
We usually mention that we have to level or make the ground even, but this isn't mandatory since the artificial turf must look natural and just stay in the place where it is meant to be. In other words, having a leveled ground or lawn isn't necessary since we will take all the required measures to ensure the product fits and covers every corner.
This tends to be a challenge for commercial use since the lawn doesn't tend to be entirely leveled or close to it, and we understand that most clients who contact us are worried about this since some companies charge extra when working with those cases. However, we are not going to charge more nor say 'no' for this reason.
We are experts who understand all the difficulties and when it is possible to have your synthetic turf installed without it looking fake. Some parts of the ground tend to be challenging, but patches or specific techniques with the right product can solve what others see as a big problem.
Therefore, feel free to contact us regardless of your lawn's condition and terrain. We will assess it free of charge and let you know what needs to be done if you want the final result to look stunning and functional.
Is Our Commercial Synthetic Turf Installation Service Expensive?
If the question is related to how much we charge just because it is a business, company, or public space, among similar places or areas, then there's no need to worry. We won't charge extra just because it is a commercial place or this is the service required.
Our estimates and costs are based on the materials used, the product chosen for the job, how many days it will take, and the rest of the details related to the project itself, not based on the person requesting it.
In short, it isn't expensive, and we guarantee this since we manufacture most of our products with high-quality products while keeping costs low. This includes outsourcing all materials to the best companies, so prices are affordable for our clients.
If you come with a budget, we will do our best to stick to it as long as your design, project, and idea are doable with it. Otherwise, we will provide recommendations and guidance on why you may need more resources to complete it with us.
However, we will always aim for this option if we can aim for lower costs without sacrificing quality and what you need.
Contact us without worrying about the price, and let our team do its magic!
Below is our list of additional services: