Synthetic Turf Installation Services for Palm Beach Island Residents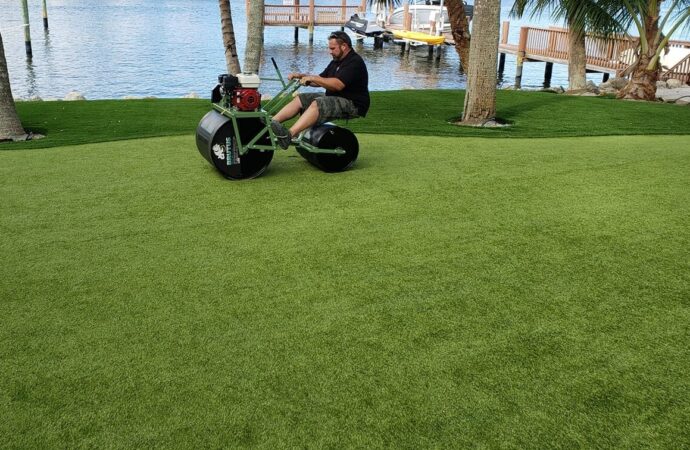 Have you ever thought about tending less to your garden and having your kids play without worrying about how dangerous your own patio or garden can be? Synthetic Turf Team of Palm Beach is an experienced and reliable company with over 15 years of experience in the industry, and our role in making you worry and work less is offering synthetic turf or grass that can be a game changer for all homeowners and individuals wanting a green space in Palm Beach Island.
Unlike popular belief, natural turf and grass take a lot of work. You need to water them frequently, use fertilizers to keep them green, and your kids and pets will usually have contact with the space, which puts you in a difficult spot when you consider all the possibilities of intoxication or any harm.
Synthetic turf saves you all the worries since you don't have to:
Use fertilizes.

Water it several times a week.

Deal with toxic or dangerous materials.
Artificial grass is made with non-toxic materials, its longevity, appearance, and durability don't depend on water, and you only need to provide low maintenance to maintain its appeal.
When leaving the task to our team, we will handle the whole process of measuring your space, coming up with the perfect design, choosing the right turf or grass, and installing it to guarantee its performance and appearance.
All the synthetic grass and turf offered by our company are manufactured by our team or companies we have partnered with to work with high-quality products and ensure they are eco-friendly and safe for all children and pets.
Keeping Kids Safe & Happy
Schools are places where kids and even teenagers should be able to play, enjoy some free time under the shade while sitting on the grass, and have contact with as much nature as possible.
The issue with using or relying on the natural turf in your spaces is that it won't last due to the foot traffic and how kids—in particular—need a surface that can reduce any harm they could receive while playing.
We work closely with all schools on Palm Beach Island and help them install artificial turf that is ideal for offering great environments for their students, which will allow them to play, spend time together, take a nap if needed, and none of them will be exposed to toxic substances or chemicals often used to maintain the grass looking green and fresh.
We will make sure the synthetic turf is perfect for high-volume foot traffic and that it offers support and can reduce any harm from falls and accidents happening in the green area.
How to Contact Our Team on Palm Beach Island
All it takes is a call, email, or visit.
We work all year round to offer solutions to every residential and commercial property, and besides schools, we can assist in designing and installing artificial turf for athletic fields, playgrounds, golf courses, and more.
We're not limited to only a few spaces as we work hard to be part of the experience in creating more green spaces for all residents and businesses in the area. Feel free to contact us using the most comfortable channel for you, and our team will get back to you within 24 hours at the latest.
Below is our list of additional services: