Residential Synthetic Turf Installation Services for Palm Beach Residents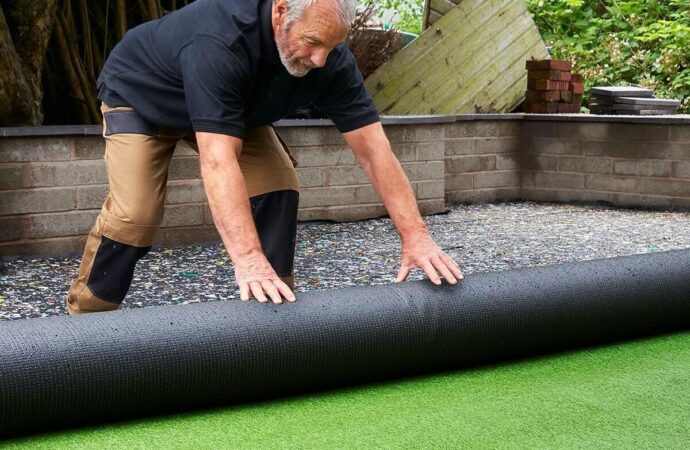 We're confident that every homeowner in Palm Beach wants to have a green space where they can spend time with their family, connect with nature, or add some beauty and fresh air to their properties. This is why Synthetic Turf Team of Palm Beach works hard to offer residential synthetic turf installation to all residents that want to take the step of having a beautiful garden or patio or maybe enhance its current beauty with turf that won't perish.
Although artificial turf is often used for fields, playgrounds, and specific areas where high-impact activities and foot traffic is moderate or higher, it is a great option for patios and spaces where you don't want to imitate the appearance of natural grass but rather offer comfort, safety, and even lower maintenance in comparison to natural turf or even synthetic grass.
Since there are many options available in the market, it is possible to have the same benefits as artificial grass—in terms of how it looks—while keeping the regular ones that come with synthetic turf. It all depends on your needs, preferences, and how you want the final result to look.
Is It Difficult to Install Synthetic Turf in a House?
Not really, as long as you know how to handle the process. Unlike most homeowners think, placing the products once they arrive at their homes is not enough.
Preparing the ground, making sure it fits the current design—or a future one—of your patio, yard, or garden, and that the underlayment is placed properly are key steps of ensuring that the turf will look good, last for over a decade, and offer great impact reduction.
Our job is to take care of the hassle so you are able to see the transformation of your residential space and have a green area that doesn't require high maintenance, won't make you spend too much time and money, and you will be able to use for gatherings or just enjoy alone time.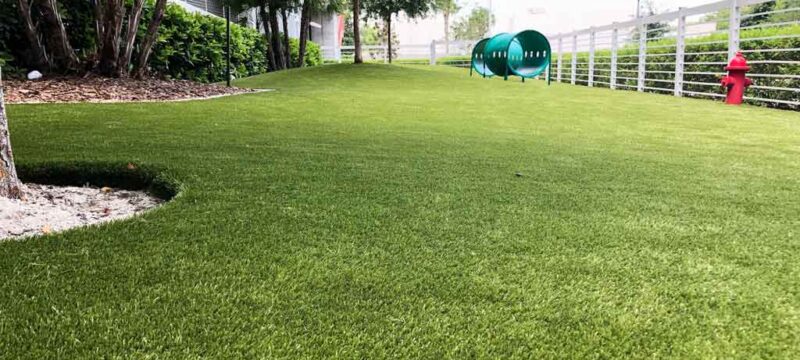 To have a better idea, the process of installing synthetic turf in a residential property includes:
Assessing the ground and space where we will install the turf.

Take all measures so we can prepare the product.

Listen to your needs and preferences to help you choose the best type of synthetic turf.

Come up with the design—if needed and if you want us to help with the landscape.

Provide the estimate and consider your budget by changing options if it goes over what you can afford.

Start the project once the agreement is done.

We will prepare the ground by making it even and taking all dirt and unwanted natural turf or grass.

Place the underlayment for the product.

Bring the synthetic turf for placement.

Finish and let you enjoy the result.
Is Synthetic Turf Toxic or Unhealthy for Kids & Pets?
You would be surprised to know that artificial turf is even safer than natural turf, and it is because you don't have to use fertilizers or other chemicals to keep it alive, you won't have to worry about most bugs and insects, and watering it is only required once a month on average, which means they can enjoy it every day without worries or expecting them to get dirtier than usual.
In the past, not all products were entirely safe as some materials caused allergies. However, the artificial turf technology has improved, and our company, Synthetic Turf Team of Palm Beach, uses the best materials in the market that are earth-friendly, pet-friendly, and safe for kids and all individuals.
You can have your children play in the patio or garden without worrying about allergies or exposure to toxins, and your pets will love the soft feeling and comfort it offers.
Of course, even if you don't have children or pets, the product will be safe, and all our types of turf are non-toxic and eco-friendly. We use recycled materials and make sure to add high-quality products, so their replacement isn't needed for the next two decades.
How Can You Have Your Residential Synthetic Turf Installed?
You don't have to go through a long process to have our experts help you with this installation.
Most residents in Palm Beach and surrounding areas can contact us via phone or email. Our team will pay attention to your needs and request and go over the detail to schedule an appointment and visit your property.
Remember that the more specific you are, the better we can tend to your needs. We will let you know if synthetic turf is what you need or if the artificial grass is a better option. We can also give you information about previous jobs and provide an average of how much your project can cost.
Most of our clients have reached out with the measures of their area and an idea of the design or help they need. Keep in mind we don't always have to design your green space since you may just want the turf installed and leave the rest to other professionals.
However, if you wish for it, our team has incredible designers that will get involved in how the artificial turf is placed and how it will help your landscape and come up with the idea that can make your home or property look stunning and even safe thanks to the surface we will help you with.
If you have no idea where to start or if this is the service you need, don't worry about it. You can contact us and give us details so we will determine the best course of action.
That being said, we are available 365 days a year and ready to work on your property. We are not limited to small houses either. Buildings, condos, and all properties where people live and have enough space or areas for turf to be installed are within our reach, and we can guarantee a stunning result.
Below is our list of additional services: