Synthetic Turf Installation Services for North Palm Beach Residents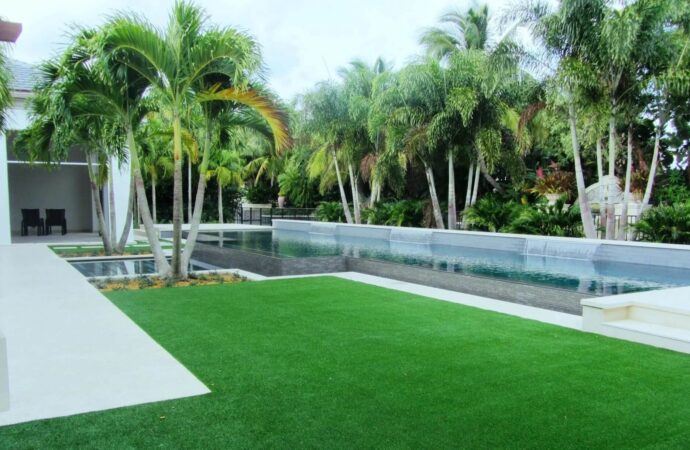 Enhancing the appeal of your home, business, or property isn't always about painting the walls, adding more plants, or relying on the extravagant appliances and décor that most people consider once they are uncertain of what to do with their designs. In our experience, something simple yet unique and essential such as synthetic turf can be the game changer for every space and property in North Palm Beach as our team at Synthetic Turf Team of Palm Beach has handled hundreds of projects and designs in which the right grass and turf were the key to bringing more value and beauty.
Our professionals have over ten years of experience working with all synthetic turf technology and understand what the best materials are for the fibers that constitute every product and which option among the dozens is the best for your needs, preferences, and the final result you wish to achieve.
Since we understand how valuable green spaces are in North Palm Beach and how both residential and commercial owners care about keeping them stunning and functional, we come up with designs that fit the area and will last for decades, so the benefits of synthetic turf such as save money and time, and low maintenance, are all possible for our clients.
In addition, we manufacture our own products or acquire them from the top companies and distributors in the USA that work with non-toxic materials, worry about improving the artificial technology, and can guarantee long-lasting grass just like us.
Request Your Commercial Synthetic Turf Installation
Although residential properties and gardens are the most common areas we design and help to install artificial turf, we have worked with businesses and companies over the years so they can add green space to their buildings or properties in order to attract more clients, give employees an area to relax, and have the natural appeal most people look forward to.
Thus, we can assist your small or large business with the design of a yard, patio, garden, or recreative area where you wish to have all the green appeal artificial grass offers and ensure you won't have to provide frequent maintenance thanks to the tech utilized.
You only need to reach out to our team, let us know how we can help, and provide basic information about your space and project. Then, our team will schedule a visit to assess the lawn and start working on a design and estimate you must approve before we get started.
Athletic Fields Are Within Our Reach
Most green areas in North Palm Beach are for homes, companies, or parks where the foot traffic isn't high or just moderate isn't the real challenge when facing places such as athletic fields where what matters is not only the appearance of the space but also how much safety, support, and shock reduction it offers.
Our team can assist you in choosing the perfect artificial turf in order to handle the high volume of foot traffic and the high-impact activities that take place in the fields while offering a product that will last over a decade, won't need as much maintenance as regular turf or grass, and can provide a safe area for athletes and everyone to practice and spend time.
Just get in touch with us, and we will handle all these needs and many more based on what your projects are about and how our solutions can be the right ones.
Below is our list of additional services: