Playground Synthetic Turf Installation Services for Palm Beach Residents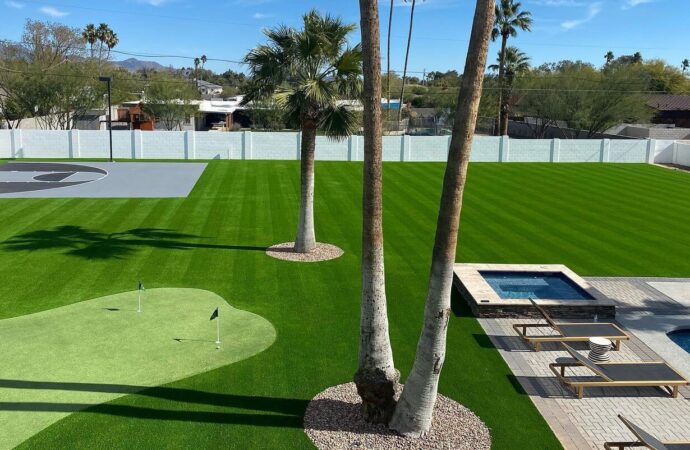 Keeping kids safe while they are playing isn't an easy task. You need to always watch over them, be close enough to prevent accidents or falls, and even play with them if it was possible while they are enjoying their time on playgrounds. Regardless of how much work and effort you put into it, sometimes it is impossible to prevent anything bad from happening. This is why playgrounds synthetic turf installation is a frequent service in our company Synthetic Turf Team of Palm Beach, as it reduces all harm, offers impact reduction, and guarantees a surface you can rely on.
Unlike what many believe, synthetic turf is very popular for playgrounds since it is:
Long-lasting.

Durable.

Earth-friendly.

Non-toxic.

Adds extra impact reduction.

Blends well in any city, place, and area.
Although it isn't always the first option, it ends up being one of the top three when it is compared to other surfacing alternatives that offer great benefits such as durability and impact reduction but don't usually overcome the defining test: the weather.
Artificial turf can stand any weather, and it is quite easy to maintain compared to natural grass since it doesn't require frequent watering, tending to it is not really important nor needs to be done often, and you will have a surface that should last at least ten years in a place such as a playground where high-volume of foot traffic is inevitable.
Is It Easy to Install Synthetic Turf for Your Playground?
If you're aiming for a DIY project, we suggest you avoid it at all costs.
Guaranteeing that the surface is safe and will last for years to come isn't only about the quality of the turf used and the materials but also about how well-installed it is.
Preparing the ground, placing the underlayment, using the right tape and glue, placing the pieces properly, and ensuring every part stays in place for years is a lot of work. Not everyone knows how to install synthetic turf, and for places where a single fall could lead to a catastrophe, we are confident that you don't want to be cheap about it.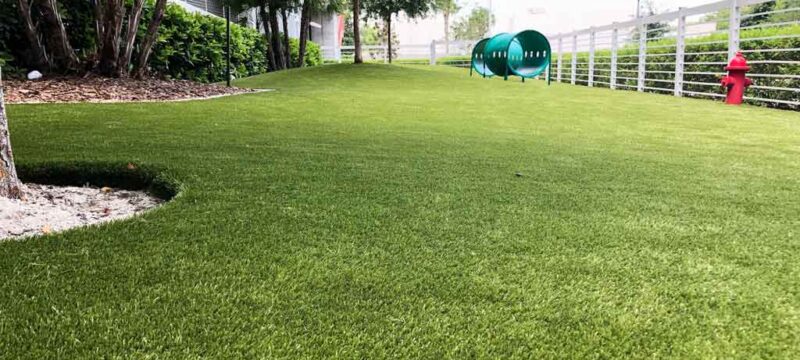 Now, synthetic turf is easy to install when you know what you are doing or how to do it.
Synthetic Turf Team of Palm Beach is an experienced and qualified company with over 15 years of experience working with all types of artificial turf and installing it in different playgrounds of all sizes to guarantee the kids' safety while they play.
We will work hard and go over the entire process with you to ensure you're able to relax and let the kids play while you only watch over them for a bit.  
We will assess the area and determine what's the best synthetic turf type for it.

Measure it to know how much product must be used.

Determine a design to save time and money, and guarantee safety at its best.

Come up with an estimate for your project.

Wait for your approval to get started.
How Long Does It Take to Install It?
Everything depends on the variants: how many meters we are covering, the type of synthetic turf used, and how much time you give us.
Most of our projects are completed within 1 to 3 days since small areas of about 300 to 600 square feet can be completed within a day thanks to our experienced team and how after all the measurements and assessment of the ground, the work should be easier.
Larger playgrounds that hit the 1,000 square feet mark can take longer, within 2 to 3 days, depending on the weather conditions or if we need to wait for certain areas of the lawn to be prepared. However, we guarantee that a four days project has been our longest one, and it was due to the size of the worksite.
Other variants will be considered before giving you an estimated time but usually don't influence the time as much as the size of the playground.
Additionally, you will have to let us know how much involvement you require from us. Some clients have requested designs and a good idea of how the playground can look after the synthetic turf has been installed and even how it will look after the equipment is placed. This is often hard to tell since we are not directly involved with the rest of the building process, but we can provide a design your team can follow in order to get everything in place.
Essentially, none of our projects should take longer than two days, and our team will do its best to finish it within a day so you can start using and enjoying the playground with your kids or students or allow children to start playing.
Can We Help You Install Artificial Turf in Your Playground?
If you are in Palm Beach, Palm Springs, or nearby areas, you can count on us. We do not limit our services to a single city or area. Instead, we are eager to expand our reach and keep adding more cities until we are able to serve all of Florida and beyond.
Thus, if you are near, we can help you with your playground. However, many of our clients have contacted us wondering if we could cover further cities and areas, and we have made exceptions in order to serve them—and you, if this is your situation—the best we can.
Feel free to ask our team right during your call or when sending an email if we are able to get to your place and deliver the expected assessment and full service if you decide to leave the task to us.
For those within our usual areas and locations, you can call, email us, or visit our offices anytime. We will be happy to talk about your playground and see how we can proceed to offer a safe surface for all kids and even adults whenever they are using it.
Below is our list of additional services: