Synthetic Turf Installation Services for Palm Beach Gardens Residents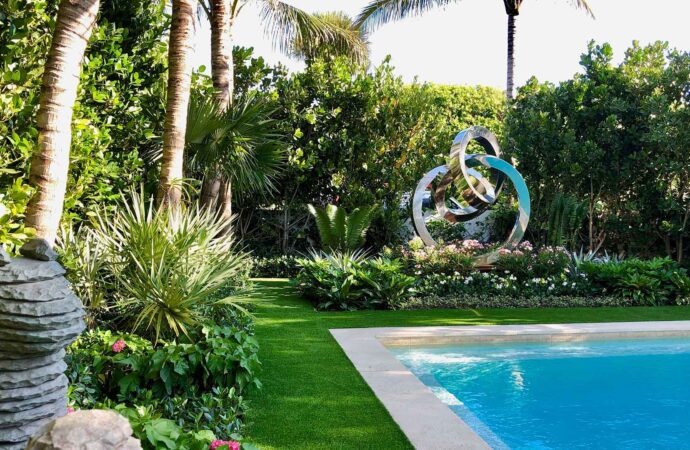 Palm Beach Gardens is known for its perfect patios, golf courses, and green spaces that other cities in the USA have a hard time offering. All this is possible due to how residential and commercial owners worry about having the best elements for their landscapes. Synthetic Turf Team of Palm Beach is part of the group of experts assisting all residents and owners in the area with their needs and projects to ensure their green spaces are beyond stunning.
For it, our team provides top-quality synthetic turf made with the latest materials and technology, guaranteeing its longevity, durability, and performance. Since not all spaces and projects are the same, we have a large variety of turf options for low or high-volume foot traffic, special projects, and landscapes, and our experts will work closely to you to come up with the perfect design.
One of the benefits of installing synthetic turf is how much time and money you can save. You won't have to water it every day or week. Instead, artificial turf needs little maintenance, and it can be watered every 2 to 3 months, and the investment in it will pay itself with the years it will last.
What We Offer in Palm Beach Gardens
Over the years, we have designed award-winning golf courses in the city, ensuring the spaces are beautiful and breathtaking and perfect for anyone practicing the sport. We know how crucial it is to have a proper surface that won't affect your game and allows you to practice all year round or as needed.
But in addition to our work with golf clubs and synthetic turf, we have expanded our services over the past decade. We are proud of how we assist homeowners in having the perfect patio or garden to combine with the rest of the city, install the right artificial grass for their spaces, assist schools in keeping children safe, and work with playgrounds and athletic fields so all users can rest assured the surface won't be an issue.
All this while guaranteeing a safe and non-toxic grass or turf that will work well with kids of all ages and pets.
Regardless of what you need from us—installation, repair, and more—our team will visit your property and assess the space so we can give you an estimate and design that meets your needs and preferences and handle the job accordingly, so you are beyond satisfied.
Synthetic Grass to Beautify Your Space
Using the artificial option instead of relying on the natural grass or turf is actually better for the planet as you won't spend as much water or use fertilizers and chemicals to make sure it looks green all year round.
Synthetic turf will allow you to have a stunning garden that won't need much maintenance, and you will invest barely any time tending to it.
Our job at Synthetic Turf Team of Palm Beach is to guarantee that you have turf or grass that will last for over 15 years or even over two decades, have a design that makes your property or space stand out, and ensure you won't have to worry about the money and maintenance of the area.
Just leave it to us and request the service that adapts better to your needs. Our team is available all 12 months and ready to take on the next project, be it residential, commercial property, or any space you want to turn green in the city.
Below is our list of additional services: