Artificial Golf Turf Installation Services for Palm Beach Residents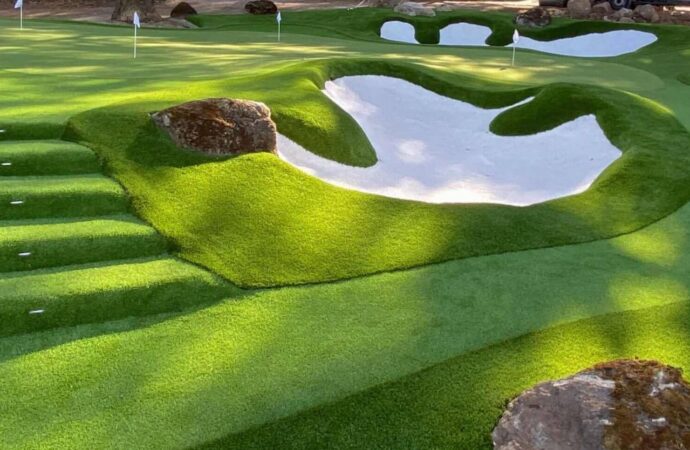 Unlike many companies in Palm Beach, we are not your regular business using artificial turf for everything: gardens, patios, fields, and golf courses. For each situation, space, and area, a specific type of turf must be used to guarantee the best performance, which is why we take our time assessing your lawn and working on your project to provide the best alternative. For golf courses, you can expect Synthetic Turf Team of Palm Beach to use our top artificial golf turf to guarantee longevity, durability, and performance.
Golf turf is quite different from regular grass and turf, even synthetic ones. The turf used in golf courses must meet specific requirements that won't affect the players' game and practices and can contribute to the beauty of the sport.
We have worked hard to manufacture one of the best artificial golf turfs in the USA, and we have installed it in both small and large golf courses where amateurs and professionals all enjoy the perfect conditions and surface to play.
Since not all grounds and golf courses are the same, we have a wide variety of synthetic turf systems to meet all needs, sizes, and requirements. We will assess your area and come up with the best option that is also budget-friendly.
Is Our Artificial Golf Turf Service the Same as Our Putting Greens Solution?
Not quite. Although putting greens is everything above designing and creating your personal space to practice golf and enjoy it with others whenever you want, artificial golf turf is just part of this first installation.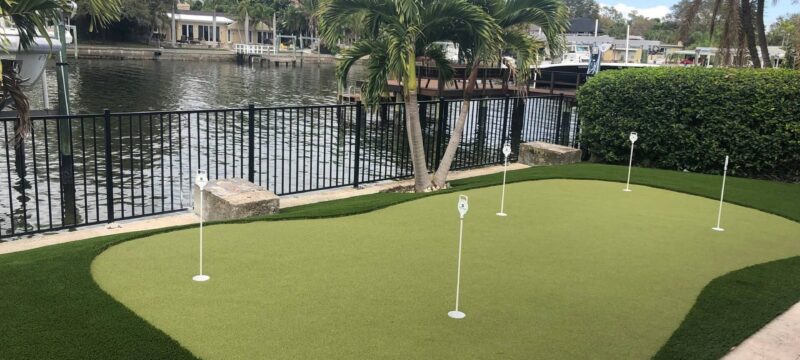 Our artificial golf turf is always used for putting greens based on the type required and how we design the area, but our main service here is aimed at those looking for professionals who can install several pieces or work with an entire golf course to offer the best surface, one that will last for over a decade, resist all weather conditions, and allow players to have perfect conditions for their game.
When it comes to large-scale projects, we won't be just putting greens; we will design the entire golf course for you and work on the installation and future maintenance needed. There is a huge difference between small-scale projects when putting greens—even if it involves 1,000+ square feet areas—and large-scale ones when working with entire fields.
Regardless of what your needs are, you can rest assured that we have the perfect team, enough workers, and experienced designers who can help to make your green paradise come true.
Benefits of Artificial Golf Turf
Besides your regular benefits such as longevity and durability, this type of turf comes with a long list that only gets better the highest-quality of golf turf you choose or we use:
Low maintenance is required.

Great amenity for communities.

Performs well under all weather conditions.

Cost-efficient: no watering or fertilizing required.

Great liquid draining.

Perfect to avoid mud and extra dirt.
Although golf turf is specially meant for, of course, golf courses, it isn't limited to them. Many clients have requested the product for their own patios and yards so they can have a golf session or match whenever they want to or enjoy the extra benefits it offers compared to regular synthetic grass.
We can help you make a decision based on your needs and requirements, which means we won't discard golf turf even if you aren't trying to have us help with putting greens or work on a golf course. We will introduce you to it if we consider that it can satisfy your request since all individuals can benefit from what it has to offer.
What Does Our Artificial Golf Turf Service Include?
Besides your regular assessment, design, installation, and maintenance, we can include DIY putting green kits so you can have your own golf course at home or wherever you decide to install the turf. If it is on a golf course, we doubt you may need those kits, but we can include extra amenities to make it more functional and comfortable for all users and players.
Overall, what our service includes will also depend on your request. Some clients will need a single type of golf turf installed, but others will need and want to have different types included if they are trying to get a design that includes areas that will look like natural grass or regular synthetic turf that is less grassy.
This is why we need as many details as possible so we can come up with the perfect design, not only in how it will look but also in the materials and products that must be used to achieve the final result.
Fortunately, we have the latest technology available, and we can include as many types of synthetic golf turf as needed. We will keep your budget in mind and find a balance between it and what you wish during the project.
We must add that putting courses is an addition you can request from us when working with this type of turf. We can help you bring the recreational areas to life and ensure that every part of the golf course is ready for use.
There are many areas that will need a lot of work when the project is more than just installing artificial golf turf or removing an old one to install a new product. However, we are here to cover all needs and ensure you end up with the perfect result.
How to Contact Our Team
Thinking about replacing your old artificial turf? Maybe wanting to design a new golf course or putting greens? Whatever it is, you will need our high-quality golf turf to achieve the perfect surface.
To access it, you are free to give us a call at any of our phone numbers available, email our team directly or fill out the contact form on our website with all the details and relevant information you can provide us with: the size of the worksite, the results you would like to achieve needs and preferences.
We will schedule an appointment to visit your area and determine what must be done to have the artificial golf turf installed and discuss if, besides the regular design and installation, you may need some extra help.
Below is our list of additional services: