School Synthetic Turf Installation Services for Palm Beach Residents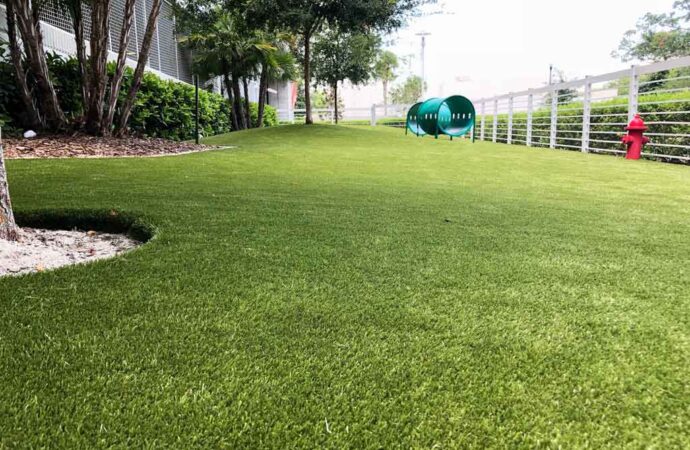 Most artificial turf is used in residential properties where kids, pets, and all adults even are able to enjoy the feeling it offers and the experience it opens to have a natural space they can enjoy all year and worry little about its maintenance. However, synthetic turf offers more than just a good-looking area. Safety and impact reduction are part of its benefits, which is why school synthetic turf installation is a common service requested in our company, Synthetic Turf Team of Palm Beach.
Schools want to ensure that their students are safe and able to play and enjoy green spaces without worrying about chemicals used to keep them green, a surface that won't reduce harm when they fall or suffer accidents, and areas that aren't always available because of maintenance. Thus, it is common for them to install artificial turf as a measure to have a surface that offers everything they need and more.
Since schools have playgrounds, sports centers, soccer fields, athletic fields, and more, having a surface that helps students perform their regular activities while also reducing costs to the institution is appealing.
Artificial turf comes with many benefits schools cannot ignore, and even parents appreciate the effort of choosing it over the real thing. Some of the best ones include:
Synthetic turf is suitable for all weather, allowing students to play without extra risks or right after the rain has passed.

Boost outdoor play since the green area will always look good and be ready for use.

Safety qualities come with it, including impact reduction, great performance during high-volume of foot traffic, and a shock pad underlayer can be included to minimize harm during falls and accidents.

Schools can save money and time and invest them in other areas that benefit students.
How Does Synthetic Turf Help Your School Reduce Costs?
Unlike natural turf, it isn't necessary to water artificial turf every day or several times a week since its maintenance is quite low. First, it doesn't depend on water, and it can be watered once or twice a month, considering many children will be playing in most of the spaces.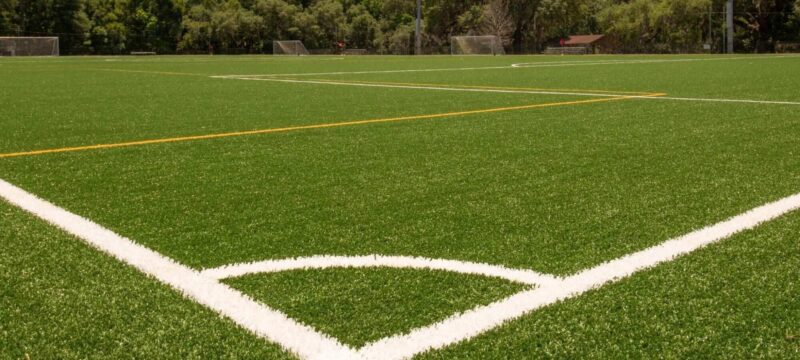 Secondly, you will naturally reduce the water used, which means you spend less on basic services and contribute to the planet by spending less.
Finally, you won't have to use fertilizers and chemicals to guarantee the turf's appearance, which adds to the fact of leaving those substances pretty far from your students that could cause them allergies or reactions.
Tending to green spaces, even when they are empty and meant to be for landscaping purposes, can be quite expensive and time-consuming for those in charge of it. You won't have to worry about 50% of these expenses since turf or grass is what usually consumes most of your resources and use them, instead, to make improvements in other areas of the school without sacrificing your outdoor areas for all children and individuals.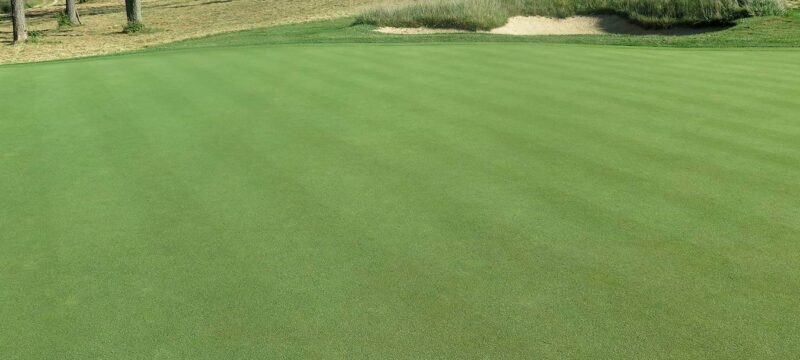 Is It Expensive to Get Started with the Installation?
Artificial turf isn't cheap, but it isn't expensive, either. Everything depends on the product, the size of the area where it will be installed, and the professionals handling the project. Synthetic Turf Team of Palm Beach works hard to guarantee that you won't have to spend a fortune installing it in your school.
We will assess the spaces, come up with the best options based on your budget, and create a design that is going to cover all your needs. In this way, you will be able to get one of the benefits of artificial turf: ROI.
It is known that this turf option allows you to have a return on your investment within 3 to 5 years, which we guarantee as it pays itself when considering all the expenses reduced, the maintenance that natural grass requires, and this synthetic option doesn't, and how long it will last.
Synthetic turf should last for over a decade with very little maintenance and few repairs that are quite affordable. In addition, our company offers a 15 years warranty, and financing options are also open for those who cannot finance the entire investment at once. Besides, we work around affordability and prices.
We manufacture most of our products in order to reduce costs, but this doesn't mean you will get low-quality products as a result. Instead, we have partnered with several companies that allow us to obtain top-quality materials to have the best products in the market. If we don't have it, we outsource the product—turf or grass—by relying on our closest partners whom we know meet all standards and use:
Eco-friendly products and materials.

High-quality materials such as nylon and polyethylene for the fibers.
Can Your School Request Our Service?
All schools in Palm Beach, North Palm Beach, and surrounding areas are welcome to request our synthetic turf installation service. We don't work in one or two locations. We prefer to take our services further and make sure all schools in the county and, soon, in the state can rely on us to have surfaces that are safe and beautiful for their students.
Therefore, feel free to contact us if you are within our locations or near them. Even if you aren't, you can send an email or call our team so they can let you know whether it is possible to make an exception or not based on the distance.
For our team to perform the installation, we will need to schedule an appointment, visit the school, and assess the area. Keep in mind this is free of charge no matter where your school is located since this isn't part of the paid service we offer.
What we would love to know before our visit is the approximate size of your spaces, how many there are, and your requirements and needs. All this is as detailed as possible.
If you are unable to provide accurate details and information, don't worry about it. We will get to the place and get the rest of it ourselves or with someone available who can support us during our visit to your school.
Leave it to us, and don't hesitate to let our team know your needs and preferences before, during, and after the project is done.
Below is our list of additional services: