Synthetic Turf Installation Services for Riviera Beach Residents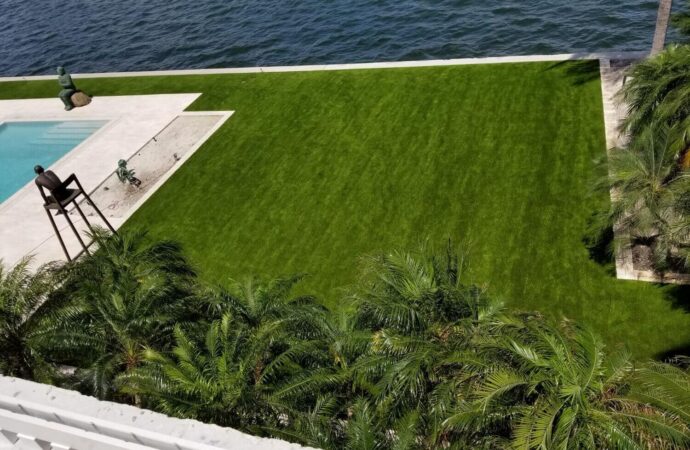 Part of the tradition in Riviera Beach includes making all patios, gardens, yards, and green spaces look stunning to enhance the area's beauty and guarantee every kid or individual is safe while playing sports, enjoying free time with their loved ones, or just having a space where they can connect with nature. Our job at Synthetic Turf Team of Palm Beach is to offer solutions to all residential and commercial owners in the area so they can achieve the desired result with the synthetic turf and grass that fits their needs, preferences, and budget.
We work hard in acquiring, manufacturing, and offering top-quality materials and products that will guarantee a breathtaking result plus a surface that is pet-friendly, eco-friendly, and non-toxic for all individuals, which allows you to install it at home, the green spaces in your business or other specific areas such as playgrounds and schools.
Compromising and investing in synthetic turf brings benefits as you won't have to tend to your garden every day or frequently, you will save water and money, and get a return on your investment as high-quality artificial turf and grass are known for paying themselves due to their longevity and durability.
How We Make Your Patio Look Stunning
We are more than another company offering products and grass for "eating." Our professionals will handle the entire process, which includes:
Assessing the lawn and taking all measures to determine what's the best way to proceed.

Come up with a design based on your needs and preferences.

Choose the perfect products and materials for the project.

Provide an estimate or quote that adapts to your budget.

Handle all the synthetic turf installation.
Our team is also experienced in artificial grass repair. This means you can rely on us for brand-new projects that will make your personal properties or large fields look great while also offering a safe and proper surface for all activities that will take place and either low or high-volume foot traffic, and also for small or big repairs that require the hands of experts that won't make things worse.
Thanks to the products we manufacture by utilizing non-toxic materials and the best options for fibers, we ensure your kids and pets will be safe while you get to enjoy a green space all year round with little maintenance and for over two decades.
Our Services in Riviera Beach Are Available All Year
Synthetic turf and grass are growing in popularity, and we're proud to help new homeowners, commercial owners, or anyone interested in being part of the community that finally realizes how much these products have to offer.
Besides installation and repair, we have expanded our options and solutions to satisfy all residents in the area. Special pet turf, designing for playgrounds, or maybe finding the best option for athletic fields, we can handle it all to guarantee that everyone in Riviera Beach is able to enjoy the beauty and comfort that our artificial grass has to offer.
Contact our team for more information, and let us know how we can help. If you aren't sure about what service you may need, just give us the basic details, and we will get started from there, no matter the time and when you reach out.
Below is our list of additional services: