Welcome to the Synthetic Turf Team of Palm Beach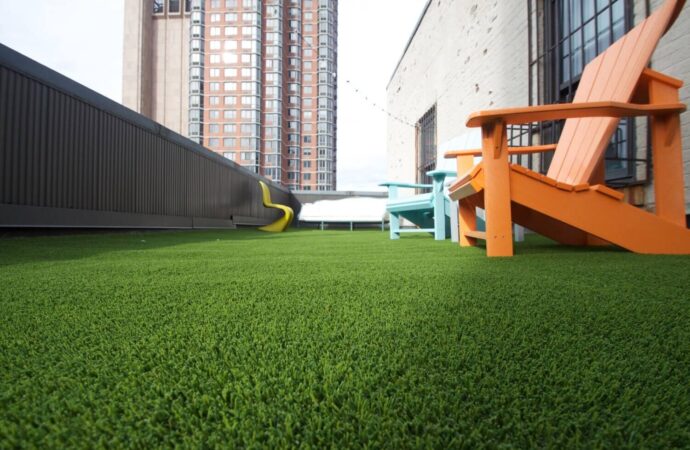 Synthetic turf and artificial grass can make any residential and commercial property in Palm Beach look unique and neat, beautifying its appeal to ensure every visitor and their owners are happy and astonished with the place. Synthetic Turf Team of Palm Beach works hard with the best professionals and materials to offer top designs, installation, and more services throughout the state. It doesn't matter where you are; you can rely on our team to get the perfect result that will bring change to your property.
We have a wide range of services that can cover everyone's needs. From residential synthetic turf installation to athletic fields synthetic turf installation, we have it all to guarantee the desired results.
One of our secrets to guarantee that you receive the best artificial grass and that the design is out of this world is how our team deals with the entire process, and this includes the grass or turf production and how we make sure the product and its quality are unmatched, so the turf installed or not will last for years and look neat while fulfilling its purpose.
Any of our previous clients know how our experts work close to the design and installation of the synthetic turf regardless of the place where they need to perform their duties. As a result, all of them were able to see our team work with the utmost care and ensure that all residential and commercial properties they leave to us have transformed thanks to a simple yet crucial and unique element.
What makes us the best choice is how high quality our turf and grass are, as they are made with the top-quality materials in the market, and we do our best to find improvements. In addition, they offer what few companies are able to: recyclable, sustainable, and plant-based products that will meet all standards and regulations while offering more than the regular turf you can find in the industry and market.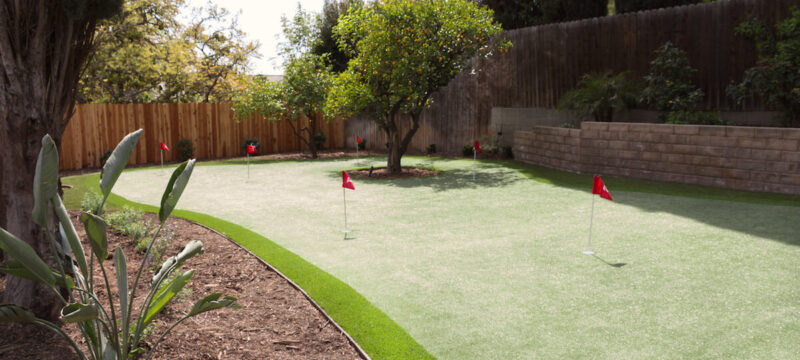 What Is Synthetic Turf & Why Should You Be Installing It?
As the name suggests, synthetic turf is an artificial product that is made of synthetic fibers, and the materials used for them can vary. From nylon to polyethylene, the material and its quality will make the difference in how the turf feels and how similar and natural it looks compared to real turf or grass.
It is known for being an affordable, earth-friendly and safe option compared to natural turf as less water is required, individuals don't need to worry about maintenance and its longevity hits the two decades mark.
Our job at Synthetic Turf Team of Palm Beach is to help everyone trying to create green spaces have the perfect turf installed accompanied by a stunning design that will enhance their landscape and ensure they won't have to worry about its beauty for the years to come.
There is a lot of work, and not many people understand how difficult it is to choose the right product, guarantee it covers all needs, and ensure the installation is perfectly done so it won't damage the product in the short and long term.
Why We Are Your Best Choice
We keep our client's needs and preferences in mind, which means we will prioritize what you need and want at the same time and will work hard to achieve the result you expect or even a better one.
Since our turf and grass are of the best quality, you won't have to worry about regulations and how much maintenance this artificial option will need. Overall, synthetic turf helps you save time, water, and resources and brings many benefits to your landscape, including the chance to design the perfect space and add more elements as your projects and ideas grow and come to mind.
Working with Synthetic Turf Team of Palm Beach also comes with other benefits such as:
Our team members have at least five years of experience working in the industry, and when it comes to design and installation, they're not lacking in anything.
Heat reduction is included.
Part of our turf technology includes reducing heat and ensuring the surface won't absorb too much heat regardless of the hot temperatures we experience in the area.
It is natural to worry about the planet for people who work with green elements. As mentioned, synthetic turf and grass already offer ways to help the planet, but we also made sure to use renewable and recyclable components for our products. If we need a third party to provide some materials, we make sure they meet our standards.
Home & Business Owners Can Count on Us
For over 12 years, we have been helping homeowners with their landscape, yards, patios, and all areas that need a green surface to look stunning, offer comfort, and bring nature to the property so they can actually call it "home."
However, we have expanded our priorities over the years, and commercial or business owners are not out of our radar. Small or large businesses can rely on us to make their properties look neat and clean with our services while beautifying every corner to give customers a lasting impression.
We know how important it is to keep everything within a budget while also obtaining what you desire. This is why our team will work with you closely and go over the idea you have in mind and recommend the best products and options based on what you can afford while keeping the rest in mind and within the expected plan.
In this process, we also expect you to understand all the benefits of synthetic turf or grass and how this new addition can bring value beyond beautifying your home or business. In other words, you can count on the Synthetic Turf Team of Palm Beach for everything related to installing, changing, or any need with synthetic turf and grass. While doing so, you can rest assured that our prices will be affordable, and you'll still get access to the latest technology available in the USA.
Working with our team is as simple as giving us a call or sending an email and request to our team so we can give you an estimate and visit your place free of charge in order to assess the area and determine what needs to be done to guarantee that your place has the green spaces you've always wanted.
How Do We Make Your Dreams Come True?
First, you must let us know your needs and where the installation or service is needed. Our company offers a large variety of solutions. Although residential and commercial installations are our top services, we are experienced, capable, and more than confident to help you with more areas and places as needed.
This is why you can go through our list of services and choose the one that fits your needs the most. When in doubt, you're welcome to ask our team; we will guide you from the beginning.
All Benefits of Our Synthetic Turf & Grass
Unlike what most people believe, synthetic turf and grass will save you time and money. After all, you won't have to water it frequently or tend to it in any possible way every day. Instead, you can have it installed in your home or business and forget about it for weeks or months until minimum maintenance is required.
Since synthetic turf doesn't require any chemicals or special treatment in order to look beautiful all the time or offer the same quality and experience in the space it is installed, you can be worry-free and enjoy your time with your family and dedicate less time tending to your garden or green spaces.
Naturally, you will be saving time, but if you're wondering why money is also in the equation, it is simple: you won't have to spend as much water and on products to maintain your turf green all year round. This is regardless of the synthetic turf we install and where we install it, as choosing the right turf is our job to guarantee the best experience along with longevity and durability.
If you're still doubting it, these extra benefits will end up convincing you:
Artificial turf eliminates puddling, as the installation process requires ensuring the entire terrain or space is in perfect condition.

Summarized: no maintenance.

You won't have grass stains or bare spots or ruts.

Our artificial turf and grass are safe for children and pets, regardless of the product chosen.

The low or high volume of foot traffic areas won't be an issue; we choose the ideal artificial turf based on the area: recreational, residential, commercial, and more.

It is cost-effective as synthetic turf is long-lasting and durable.

Great ROI (return of investment). All artificial turf ends up paying itself in 2-3 years as a result of reducing all expenses and maintenance costs.
Doing Things Right During the First Try
As experts in the industry who have been working with all types of artificial turf for over a decade and seeing a wide variety of designs, we know what we shouldn't do and work hard to improve our services, come up with better ideas and designs every day, and ensure every customer is satisfied and happy with the result.
We are not trying to work at your place and have our team change the design several times after it has been planned or even completed. Instead, we want to make sure the first time is more than enough, as it should be.
This is why our process comprehends several steps that will guarantee your satisfaction and save time and money:
Do We Offer Financing Options?
Absolutely.
Besides offering top services and products, we do our best to make them accessible for everyone, which means we have different plans and options for our clients who cannot or do not wish to afford and spend all the money on the project at once.
When you contact us, let us know if you would like the project to be financed, and our team will provide details about our options. We start at eight months for small or low-cost projects and scale it to 18+ months with different interest rates or none based on the project and option chosen.
Our financing options are available for any of the services, regardless of who you are: a homeowner, business, or large company.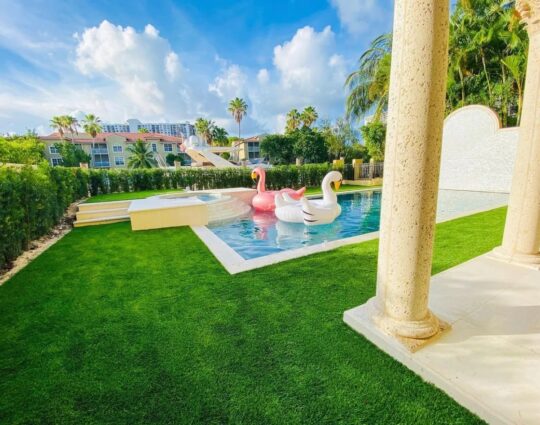 How Do You Know If It Is Time to Install Synthetic Turf?
There's nothing such as "the wrong time." Since synthetic turf isn't a product or item that depends on the weather, we can install it all year round. As long as our team prepares your land during the process and every detail is handled properly, there won't be any issues with the project.
If you are wondering whether you need to wait for your natural grass to die or meet special requirements, you don't need to. Synthetic turf and grass can be installed even if you have a natural one. As mentioned, we handle the whole process.
When looking for the right time, we dare say it is a matter of finally taking the step whenever you want to save time and money, have a stunning yard or green space, and design the perfect landscape. It can be one or the other or all at once.
Our team is always available to start working on your design and guarantee you are finally able to install the turf that will keep your children and pets safe and allow you to enjoy a stunning space that won't die out for the next 15+ years.
Areas We Serve in Palm Beach
Palm Beach Gardens, Lake Worth, Palm Springs, or any other area in the city is within our reach.
Synthetic Turf Team of Palm Beach is open 365 days a year and available for all residents and businesses in the area to ensure you have a stunning synthetic turf waiting at your property daily.
We have worked for over a decade with different houses, playgrounds, schools, athletic fields, and spaces in Palm Beach that look breathtaking, thanks to our experts' work and experience. Therefore, feel free to contact us for all your needs no matter where you are in the city, as we will travel to your place and start offering our best services.
Please provide us with basic information once contacting our team, including your name, contact phone, and how we can help you based on the previous services. We also offer custom solutions; in other words, you are welcome to inquire about a unique and custom project so our team can guide and assess you through the process, evaluate the options and possibilities, and make it happen for you.
We are always excited to work with new places, and offering safety, beauty, and comfort is part of our job, so don't delay your call or email and get in touch with our team, as the location is no longer a limit!
Below is our list of additional services: